What is Lumin Support?
Lumin Creative's Support Software provides a customer support and FAQ system that integrates into your existing website, giving you an effective tool to handle the questions from your clients and website visitors. With the ability to automatically answer common questions through a dymanic FAQ system along with effectively distributing new questions to relevant staff through ticket based support, this dynamic system saves your company valuable time and resources by letting common issues be solved once while still providing the personal support your customers desire.

Seamless Integration
Lumin Creative works within the design and development requirements of your current website, allowing you to provide a valuable service to your customers that is seamlessly integrated with your existing presence.

Automatic Answers to Common Questions
Our software allows your team to build a database of frequently asked questions and their final answers, presenting those answers to new users with similar questions so their issue can be addressed immediately.

Effective Distribution of New Questions
Questions that cannot be addressed automatically through the published FAQ database are effectively distributed and addressed by your staff, allowing you to assign new questions to staff by specific categories.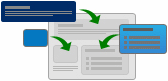 Search Engine Optimized
Extensively optimized for search, Lumin Support draws organic traffic to your site from all major search engines. People with similar questions are led to your site and exposed to your products, services, and support.
System Feature Highlights
Not an enterprise level client?
We provide a very powerful and economical Q&A platform through Answerbase.com that you can launch all on your own in just minutes! In order to effectively service clients who may not be large enough to justify an enterprise level solution, we've recently launched Answerbase that provides a powerful Q&A system for websites and blogs at all levels.
Visit Answerbase.com for more information on this product and how you can get your own Q&A site today.